Thank you for all you did in this process.  It was smooth with effective and efficient communication.  Sam was great to work with, I will definitely work with your company again if we have a need arise.  I would not change anything about how this went.  Much appreciated we are a very satisfied customer.  You are meeting your mission statement.

Chief Barringer
Sweet Home Fire & Ambulance District, OR
This was the first major purchase for our program and everyone at Brindlee, from Jeremy to the technicians that rebuilt the motor prior to delivery made this a very pleasant experience! Communication was excellent and very much appreciated! Thanks again and would look forward to working with you again in the future.

Metropolitan Community College 
Brindlee Mountain Family,
First let me start by saying WOW! This company had been amazing!

Our sales rep. Chris Crutchfield was the absolute best! From the truck inspection that didn't cost anything to asking random questions at all hours of the day throughout the process and the final pickup.

The Irvine KY Fire Dept cannot thank Chris and the staff at Brindlee mountain fire apparatus enough! Our department was fortunate enough to receive a USDA grant to purchase a $50,000 dollar truck, we were treated as if we were buying a million dollar truck and that means so much to us...

Thanks again for making our truck buying experience the absolute best... WE WILL BE BACK FOR ANY BUSINESS IN THE FUTURE! 

Thank you and God Bless each of you! 
Keep up the great work! 

Captain Chad Neal
Irvine KY Fire Dept.
 
I just wanted to give you an update regarding our new ladder truck. 
I'm sure you're aware first responders have a pretty tough job. It makes it easier knowing people like you and companies like Brindlee Mountain Fire Apparatus are there to help us make that job easier. 
Very rarely, if ever, are we called when people are having a good day. Rather we are usually called when people are having possibly the worst day of their lives. Such was the case the Friday after Thanksgiving, November 23. The Huerfano County Fire Dept was dispatched to a structure fire that afternoon.
The first due engine found the house completely engulfed in flames. Fortunately, the grandmother and her two grandchildren got out safely. Unfortunately, the house was a total loss. 
Our new ladder truck, however, performed perfectly.
Although the house was a total loss we were able to successfully protect the two threatened houses immediately to either side of the burning house. 
It's been a long road since we started this project back in March. Thanks again for everything you did for us. 
Paul Gomez
Operations Division Chief
Huerfano County Fire Dept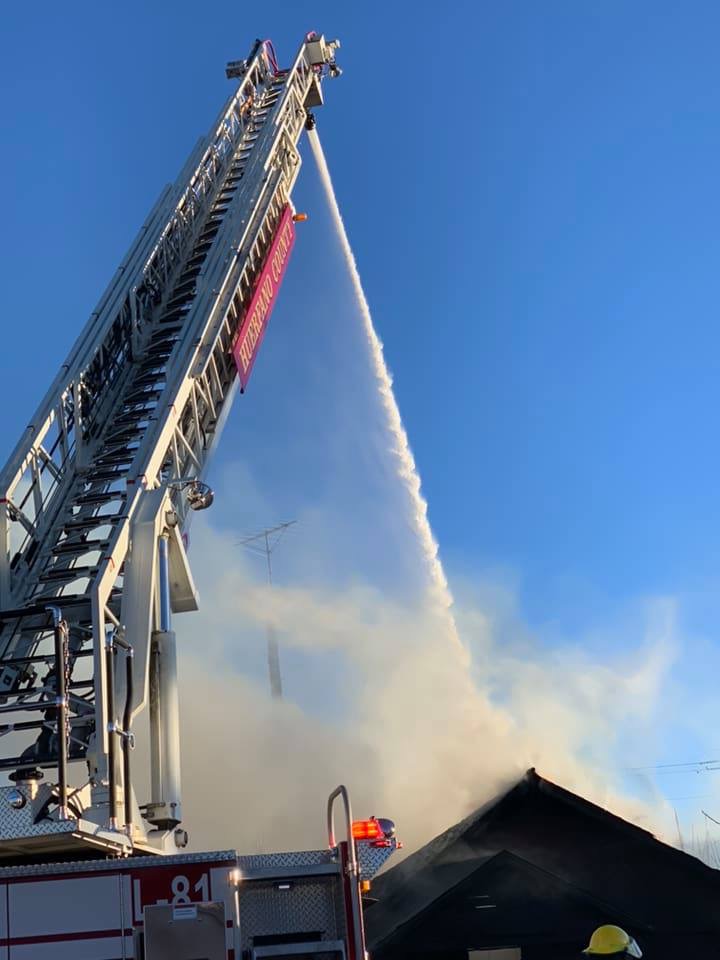 *Photos were taken by Shannon Lynne Bechaver of Lasting Images Photography. 
I want to say again what a pleasure it has been so far doing business with you and the entire company. You all have something very special going there and you should all be proud. I have never, which is a very big word, felt more welcome and genuinely appreciated as a customer. I have spent the past 20 years teaching a servant leadership program called the Axioms of Leadership. Brindlee Mountain Fire Apparatus is the first place that I have seen and felt those principles of servanthood so thoroughly evident in an entire organization. That has been incredible to experience. 

Chief at Chatsworth, GA
Good afternoon Mr. James
We just bought a brush truck last week from y'all, the
2007 Ford F-550
.
We're very happy with it so far.
We were really impressed with your guys up there!  From Jeremy, our salesman to  Greg the mechanic, they both were awesome! 
Everyone spoke to us and made us at home... y'all have got it going on up there!   
I really love how y'all have prayer and devotions every day... what other company does that?    That says a lot about who y'all are...
Thanks again!!
Merry Christmas to all of y'all!
Ray Cork, Jr
Jena Fire Dept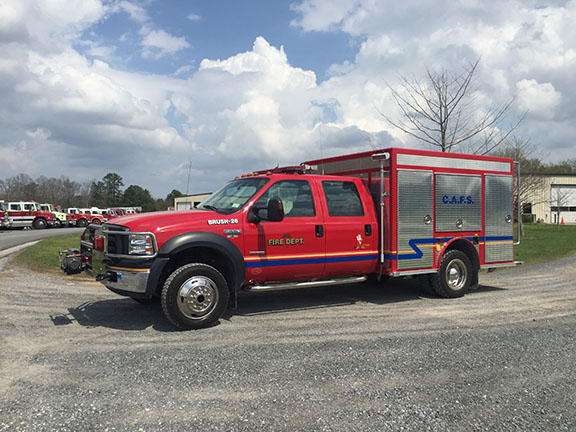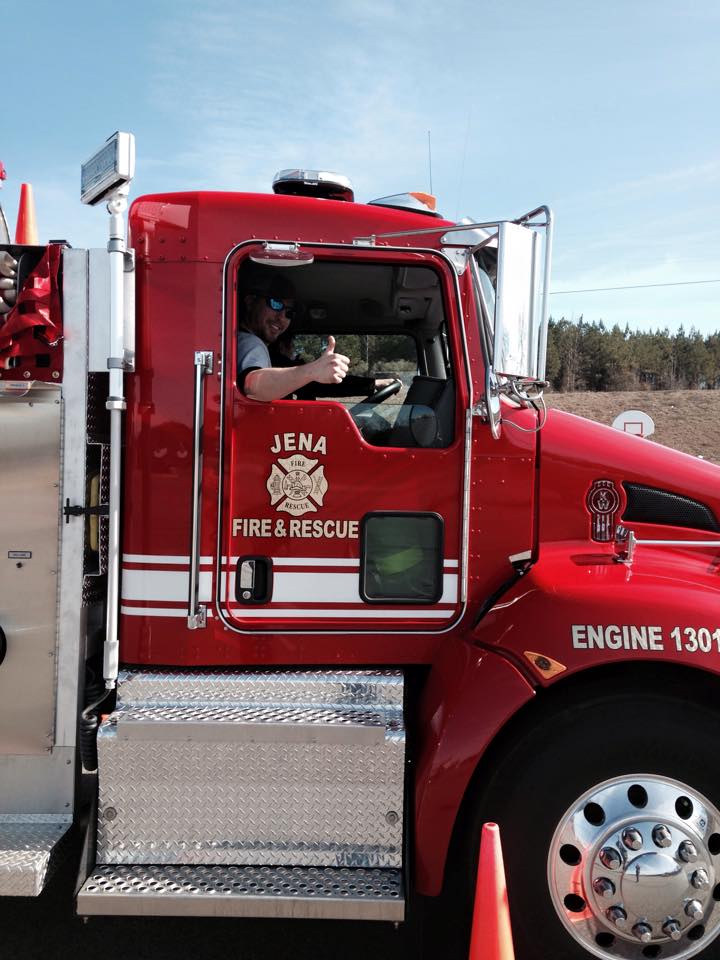 Working with Jeremy McCoy and Brindlee Mountain Fire Apparatus was professional, courteous, and as advertised.
The professionals worked through both ends of a grant process that provided us the opportunity to purchase the vehicle.

We came with a list of concerns and processes that were dealt with and handle in a manner that made us feel comfortable and a part of a team.
The courteous attitude of all employees made the stressful portion of securing the vehicle a normal days activity.

Even prior to our arrival, the staff from top to bottom were friendly, good-natured, and it felt as if they placed us at the front of the line to handle our issues/concerns.
As advertised, in a sense that the integrity of their entire operation was priority one. They put their word and a handshake at the top of the list. 
The bottom line is that if you are in the market for a used or refurbished emergency vehicle; Brindlee Mountain Fire Apparatus is the first stop you should make.
Cameron Haller, Deputy Chief
Chief Shelby County Haz-Mat Team
We now know why you guys are #1 in selling fire trucks.
We made a trip to New Jersey to look at a truck with your team and we had no idea what we were getting into.
Our chief had been in contact with
Jeremy
, one of your sales team.  Throughout the process, he always kept us in the loop on what was going on and what was expected from us.
One of the highlights of the process was that
Jeremy
was not pushy.
I would like to say we have dealt with other company's and you are truly the best from the first call to the end of the sales process. I would recommend you to anyone.
In my book, there is now only one place to buy a fire truck and their name is Brindlee Mountain Fire Apparatus.
Thanks again.
Brian Coombs
Solon Fire Department
Solon Maine.
Thank you so much for all your support and getting this Ford F550 electrical issues repaired. We have picked up the truck and everything, at least so far is working great. It is a perfect match for our needs.

Please forward to all involved. It is hard to find reputable companies such as Brindlee who will stand behind their sales and I thank you for that.
 
Be assured we will recommend you as there are other departments in our area looking for that perfect fit apparatus.
 
Thank you again
 
Have a great day!
Kneedland Fire Protection District, California
 
"Making a positive difference within our community in which we live and serve"
 
Rick Hardin - Fire Chief
Kneeland Fire Protection District
We are very pleased with the result.  Brindlee Mountain is a very useful resource.  Thanks for your assistance.
Dennis Murphy
(Mineras San Rafael, Guatemala)
Good to be able to deal with you and James again. 

We have been kicking back and forth if we wanted to sell the engine or not.  I met with Captain Myers the other evening and the decision was finalized to go ahead and sell it.  At that point, it was an easy decision on the best way to sell. Captain Myers is the chairman of our apparatus committee. I informed him of our past pleasure and professionalism dealing with you guys and gals. 

Like I said, it was an easy decision. 

I look forward to working with you guys again. As always, I know it will be a great process and we are looking forward to it. 

By the way, the Pierce ladder truck we purchased from you guys is still the best running piece we have and has caused us the least amount of headaches and maintenance costs. 

Looking forward to seeing you guys again. 

Jim Cook
Asst Chief
Leesburg FD, VA
Hi Tim this is Charlie Kulbeck Commissioner of Blaine County MT. It's been reported to me that our recent transaction with the purchase of our fire truck went very well. The volunteers were well taken care of by you with motel arraignments, tours of the fire truck plant etc.  The trip home as you are aware  had some troubles with the truck the county purchased & it broke down about 30 miles west of Glendive MT. The following Friday we were able to pick up the truck & bring it home after a bill was paid by you of around $4000. As far as the integrity of the truck there is no question this was a great purchase by the county & as far as this particular problem  I understand it is a pattern failure with this particular engine which all engines have in some form or fashion. What I would really like to address is to make sure that you are aware of how pleased we are with our dealings with Brenly Mountain Fire Apparatus in general & you Tim in particular. Paying that repair bill after the transaction was done on an as is where is deal is a reflection of you & your companies character. Being a business man myself I've had the occasional "crap happens" scenario very similar to this. Nobody's fault but what are you going to do? When these things happen the cost of repair can at times wipe out any profit that may have been gained but the hope is that future business will be acquired & your good reputation held intact. You sir can be assured that future fire truck purchases will be directed towards your company & hopefully we will be doing business again. Thank You !
Our truck is been in service for two years now.  It's been exactly what we needed it to be, the flagship and the workhorse of our department.  I can't say enough about you and the staff at Brindlee Mountain Fire Apparatus.  I have referred several departments to you and hopefully they will be as satisfied as we are.  Once again thank you and the entire staff for making our apparatus purchase as enjoyable as it was.  

Chief Josh Gasparini
Middletown Fire Protection District
 
We couldn't be more pleased with our relationship with Brindlee Mounttain Fire Apparatus.  I have and continue to recommend their services to others.

Chief Vincent Gatti
Proctor Fire Department VT
Thank you for everything, it as been a pleasure doing business with y'all. Please pass on to all the staff at Brindlee Mountain, we appreciate the quality of product you sell and the excellent customer service delivery.
J.D. Mosby
Chief
Byron Fire Department
The Pleasant Gap Fire Company has partnered with Brindlee Mountain Fire Apparatus to facilitate the sale of two different pieces of apparatus.  It has truly been a partnership.  Brindlee Mountain Fire Apparatus ensures fairness for the seller as well as the buyer.  The staff at Brindlee Mountain Fire Apparatus work thoroughly and very quickly to understand the needs of their customers and begin finding solutions.  We are extremely satisfied with the repeated performance of this group!
Lou Brungard, Fire Chief
Pleasant Gap Fire Company
Want to say thank you to Brindlee mt. fire apparatus and salesman Jeremy McCoy we needed to replace our old mobile cascade squad with something bigger and newer and we started checking all the site's for used i got a hold of Brindlee Mt. and was given Jeremy. I told him our story and what we had in reserve to spend on a new truck and within 2 hours he had us 4 truck's to look at online. after calling on them and more conversation with Mr McCoy we set out to go look at a truck 5 hours away in upstate New York we liked the truck and went back to get the ball rolling on our end to get town meeting approval . we got approval in may and the truck was going to be released in July. Jeremy stayed  in contacted with us and the seller's to make sure all was going as planned .We took delivery of the unit the first week of July and transferred all of our stuff over and found we had more room to grow into it. I feel that he and all at Brindlee Mt. went over and above to help us get what we wanted and at a very good price .
  Then move forward 6 months and we find out our 1982 Seagrave's pumper has massive tank and body issue's and we turn to all the site's again and we contact Jeremy and Brindlle Mt.to find us a new pumper and again i tell him what we are looking for and what we have to spend and within the hour he has 5 truck's we could get into, for the next month i'm on the phone talking to him and the seller's ,i travel to New Hampshire ,New York and Maryland to look at apparatuses, we find the perfect truck in Maryland and with Jeremy's help are able to get it and the seller's left alot of the hose and other stuff on the truck. 
  We took delivery on the pumper a month ago we had it in service 2 days and hadn't got it lettered yet and get a good structure fire in one town over from us we set up on water supply just down the road from the fire in our own town and the pumper performed so good we had people stopping at 
1 am
 to see the new truck in action. THANK YOU  Jeremy McCoy and all at BRINDLEE MT. when we get ready to upgrade or get anything else we will deftly give you all a call .
                                                                                                                                                                                                          THANK YOU 
                                                                                                                                                                      Albert Curtis Jr. Greenwood Fire Chief Greenwood Maine  
I can attest that since the initial phone call to now, your company has some of the most stand-up people I have encountered. It has been quite a pleasure for our department to be able to deal with you and your team. 
Again, it was an absolute pleasure to have your company through our selling experience - you certainly made it an easy process. 
~Chief Russell Lancaster
We have never attempted the sale of a fire engine.  Our experience with you was completely painless.  I have no reservations about recommending your company to other agencies, and we will not hesitate to use your services in the future!
DC Rob Palffy
North Maine Fire Protection District
Sending you a HUGE THANK YOU on the Great Engine our Fire Department purchased from you. Our Engine the Becker Freightliner 4x4 with 600 gallon water and CAFS System has been a huge life saver to our community its responded to the neighboring county on 2 occasions and has responded to a forest fire in our district the ENGINE RESCUE 4 is awesome . THANK YOU BRINDLEE MOUNTAIN FOR YOUR PROFESSIONALISM AND EVERY THING you did for the Haldeman Fire Department here in Rowan County Kentucky all of our Fire Fighters are PROUD and HONORED to have purchased our NEW ENGINE FROM YOU. I will send you a picture soon as we have our lettering on the truck complete. HALDEMAN FIRE DEPARTMENT SENDS A MERRY CHRISTMAS to ALL EMPLOTEES AT BRINDLEE MOUNTAIN FIRE APPARRATUS. stay safe my friends.
Jerry Bryant
Haldeman Fire Department
In March, 2014 our 32 year old tanker was removed from service due to numerous mechanical issues. As fire departments struggle to meet the demands of our citizens with smaller or limited budgets we've had to refocus on the missions of our apparatus. NFD visited with manufacturers about building a new 2000 gallon tanker to meet out needs. I had visited Brindlee Mountains website, and found several tankers available for purchase at the time. The bids were open and it was apparent we didn't have the funds available to purchase a new tanker, so I contacted Tim White of Brindlee Mountain about a 2008 Deep South Tanker advertised on their website. He stated it was still available and I informed him we would come down and look at it.
I and two other NFD staff made the 12 hour drive to Huntsville, Alabama to look at the truck. Brindlee Mountain made our arrangements for our visit and was spot on for quality and professionalism. We toured their facility, met some of their key staff members and were impressed about every detail. The Tanker actually exceeded our expectations, other than a few minor fixes and additional equipment we added to the apparatus, and we were able to seal the deal. As stated above in today's world fire departments have to be budget conscience all the time, and even though this was a used tanker, it fit into our mission and we were able to save our taxpayers $60,000 over a new tanker.
Nevada Fire Department will not overlook Brindlee Mountain Fire Apparatus for future apparatus purchases. Thanks again to out salesman Tim White and his professionalism and easy going attitude, as well as the entire Brindlee Mountain  staff that worked with us on this project. Keep up the good work, and be safe!
William P. Thornton Jr.
Fire Chief, NFD
The Lovell Fire Department is extremely pleased with the services and support we received from you and Brindlee Mountain Fire Apparatus. We were searching from a platform and contacted you for assistance which proved to be great! You guys had the resources and knowledge to locate right piece of apparatus and at the rightprice. Thank you for the assistance and we'll be sure to turn to Brindlee Mountain Fire Apparatus for our next search.
I have had the pleasure of working with Brindlee Mountain Apparatus on several occasions and I must say that they are beyond a doubt an excellent organization to deal with. They are very responsive to our needs while providing honest and direct feedback. Every lead that they sent our way was a serious buyer. I never felt that my time was being wasted when talking to someone they referred. Their staff was friendly and respective to our needs. They made us feel like we were the most important people they were dealing with and delivered great results. 
I would strongly recommend anyone who is even considering selling a fire apparatus to contact Brindlee Mountain. We are returning customers using their services to sell three pieces of equipment. I am very confident in saying that the treatment that we got is just the way they do business. I have no reservations recommending Brindlee Mountain and am sure that they will be able to meet the needs of any client.
Best Regards,
Dennnis P. Reilly
Fire Chief
Sunrise Beach Fire Protection District
Our Fire Department started looking for a Heavy Rescue aboutthree months ago. We looked all over the internet and were most impressed withthe large selection available on
firetruckmall.com
.We were finally able to find the perfect rescue, just 30-miles from ourdepartment. The rescue had been for sale for awhile, and even though we were soclose, we would have never found it without Brindlee Mtn. Fire Apparatus. Theselling department finally decided to list it on 
firetruckmall.com
, and we immediately foundit and purchased it. We will definitely use Brindlee for any of our futurepurchases. Thank you!
Chris,
Truck is awesome! Has been a valuable asset to our department. This winter it ran on many vehicle accidents during ice and snow storms. In March we fought an 8 hour warehouse fire and saved a big portion of town, only lost two structures. After that fought two housefires, saving two trapped occupants in one structure.Thanks for the help acquiring this truck. We hope the truck will remain a valuable asset for years to come. We will contact you in the future if we plan to purchase another vehicle. We were very satisfied with yoir companies assistance.
WILLIAM GRAVES
FIRE CHIEF
SNYDER FIRE DEPARTMENT
When our Town Board gave us permission to surplus two pieces of apparatus, and for the first time use another broker other than our previous option, we chose Brindlee Mountain Fire Apparatus for their large inventory of apparatus as well as the values the company holds. Their values appeared to mirror that of our own.  

It was comfortable to receive the super friendly customer service each and every time contact was made. Both pieces were sold in a timely manner and we are thrilled with the service we received. I would recommend using Brindlee Mountain Fire Apparatus to sell your next fire apparatus!
Just to let you know all went well we are the new owners of the 1991 Chevy Kodiak made it home 1740 miles not a peep out of it will be using your site from now on as long as I am the truck the truck person thanks for everything.
Brindlee Mountain Fire Apparatus came highly recommended to us by an industry sales professional and a neighboring fire department.  Their efforts in marketing our used 75' ladder provided a number of inquiries in a fairly short time frame.  A ladder truck is a unique asset that would have been difficult for us to sell locally at a reasonable price.  Brindlee Mountain provided us a heads-up anytime a prospective buyer had contacted them.  They were very pro-active during the entire process to make sure we were satisfied.  It is a pleasure to work with a company that delivers solid customer service.
There is not enough my department or I can say about the service and satisfaction Brindlee Mountain provided to us, we contacted them to broker a rescue truck we had been sitting on for 2 years, the truck was a brand new rescue truck, we just had no use for.
I had been in touch with Brindlee before on brokering the truck but was afraid the hassle would not have been worth the reward, as we was dealing with using the rescue as a trade-in on a new apparatus, just about every large manufacture would bring up Brindlee, they would say we can't do anything with it but Brindlee is a great bunch and they can get rid of it for you, we couldn't understand how the manufactures would take in one of our existing engines, but would have nothing to do with the rescue that they all agreed was not needed buy this district and felt the same as we did about it.

You could say Brindlee Mountain built us a new department, but they did more they placed us back in the position we was once in, plus set us a few notches above, here at the house we say "never done, 2ndto none" and now we get to move on to new and improved projects to set our district forward again, so great thanks to all at Brindlee for that, and to the rest of you go see Brindlee Mountain Fire Apparatus, talk to them, tell them your story, they are truly there for you, let them help you, they are on that mountain for a reason, we seen it, and felt it. Thanks again
Our experience with Brindlee Mountain has been nothing short of fantastic. We found a pumper/tanker on theeast coast, over a 1,000 miles away, that was a great fit for our departmentand budget.  Jeremy got us in contact with the seller and assisted us with many of the details of the purchase and delivery of the apparatus.Jeremy's professionalism and desire to help our department was amazing! The customer service we received made the whole buying experience less stressful for us.
I find the website to be extremely user-friendly, I am on it daily looking for our next apparatus. Ihave no doubt we will purchase future apparatus through Jeremy and BrindleeMountain!
We want to thank you for listing our rescue truck onyour web site. The truck is sold thanks to your site! Thanks again for keepingcontact with us during the month we had it listed.
The truck is working out great.  We have used it several times on fires and itis a great fit for our township.  The old truck it replaced was just too big for many of our areas.  I can't say enough good things about our experience buying it.  From dealing with you, to the great group of guys in Escalon, CA to putting us in touch with the shipper so we could make arrangements to get it home.  Everything went smooth.  Thanks again.  I check your website regularly and will keep you in mind for our next purchase.  Have a great week.
On the behalf of the Rosa Vol. Fire Department, I would like to thank you and you team for helping our department so much, I personally have had the honor of working with, you, Butch, and Eric at one time or the other. The other day myself and the Caption of the department were standing outside of the station going over are E-One, when we noticed a Brindlee Mtn. Fire Apparatus service truck pulling into the drive. Jayson was the mechanic who was in the truck and stated he was passing by and noticed us at the station and just wanted check and see if we needed anything, at that particular time we did not, but myself and the Caption were very impressed in the fact, in todays world so many people try so hard to get out of work, but yet Jayson stopped to just check on us and see if we needed anything. Jayson was also able to answer several question in regards of operations of the apparatus.  
I want to thank everyone at Brindlee Mountain for everything you did for us.  I want to thank Tim for being so patient with me on allthe questions I had and finding the right truck for our department.  Youreally made us feel welcome as soon as we walked in the door to the time weleft.  I would recommend Brindlee Mountain to anyone looking to buying afire apparatus.  
Thanks again
Capt. Bryan Wells 
Lake City Fire Department Arkansas 
Everything went very well. Wereally appreciate the work and professionalism the Eric does. He is really anatural at his job, and we want to thank you for allowing such a great guy todoing such a skillful job in the fire industry. I again appreciate the greatjob you do each and every day. 
We had a structure fire in themiddle of the testing, and Eric handle the shuffling of the trucks while wewere gone. It's shows that you guys at Brindlee Mountain Fire Apparatus value and understand the needs of the client.  
Hey Billy! 
Your very welcome for that and also thanks a lot for the help you gave us and for making it able that we could buy those Fire trucks. We have been able to serve our community way better with this truck. You asked me for some picturesof it a while ago ill send ya some attached to this email.
HappyNew Year to you too!
Walter Giesbrecht
Thanks for everything you and your team at Brindlee Mountain did to help us sell this unit so quickly. The great customer service you provide certainly helps both the buyer and seller accomplish their goal of finding a new home for apparatus that still has years of service left in it. I appreciate your timely responses to those who were interested in our heavy rescue and the follow up emails you always sent the days that followed. I hope you and all the staff at Brindlee Mountain have a happy and successful new year!
Chief Brad Creasy
Bedford Fire Department, Virginia
Thank you.  It has been a pleasure doing business with you.  We appreciate your patience through this process.  We look forward to doing business with you in the future.
May God bless you and your company,
Tommy Stewart
Chief - Fisher Ferry VFD
Chris, Thank you and Brindlee Mountain for the hard work and patience during our apparatus purchases. It was a pleasure doing business with you. You and Brindlee Mountain made this purchase a pleasant experience. It is wonderful finding a company based on C
h
ristian values. That is rare these days. I pray that Brindlee continues doing business this way. In my opinion, Brindlee is in the forefront on how to conduct business. I hope your leadership spreads. Thankyou once again and we at Fisher Ferry Fire Dept look forward to doing businesswith you in the future. If you need anything, do not hesitate to call. Please forward this to James also. You deserve a pat on the back.
 Thanks Tommy Stewart Chief Fisher Ferry Fire Dept
Our truck got here today and it was more than I expected, I think it is exactly what we needed. 
I want toTHANK YOU for all of your great customer service and assistance in getting usthis truck. Your dedication, assistance, and kindness were humbling. Knowingthat you would do whatever you could to help, really made me feel comfortablewith your company and with the process. 
THANK YOU AGAIN AND GOD BLESS, Ben Smith 
Just dropping you a note to say thank you once again foreverything you did for us and that we could not be happier with the truck. Idon't know what you guys could have done to make our time down there anybetter.  All three of us had a blast.  The past month we have used iton 2 major fires and it worked out excellent for both of them. 
Courtney Hoover
Jeremy;
I wanted totake the time to thank you and everyone you work with on our recent purchase ofthe 2008 International Rescue Truck.  The whole process to go down andinspect and view the apparatus was a breeze, and everyone there was a amazingto deal with.  Your company has really done a great job in helpingdepartments get quality used apparatus.  We have loaded the"Squad" up with all our rescue gear, pushed into the bay to place itin service and ran a couple calls with it.  I would highly recommendanyone who is in the market for a quality used fire apparatus to go to BrindleeMountain Fire Apparatus! 
Thank youfor your time spent with us working on the truck, showing us around yourbeautiful part of the world, and you are more than welcome to head up north fora visit! Attached is a couple pics of our crew pushing the truck into serviceinto the bay.
Thanks again!
Thank You
Nick Acciavatti
Fire Chief
Dashwood Volunteer Fire Department
Everything went like a well oiled machine as always with your company.  I gotta tell you brother you guys make it real easy to accomplish a very difficult task.  I appreciate you and your staff and look forward to doing business in the future, stay safe brother and best to you and yours.
Chief Richard J. Bader Jr.
Georgetown Township Fire Protection District, Indiana
You guys really are top notch!! Even with the minor issues we have had it is a pleasure to do business with someone as responsive and eager to please. Everyone I have dealt with has been pleasant and a true customer service professional and believe me I deal with customer service people every day. You guys are GOOD! Thanks again! 
Scott Peterson
Askov Fire and Rescue, Minnesota
Thanks so much for your help with the purchase of the Mini-Pumper for our department. This is the Third Apparatus we have purchased from Brindlee Mountain Fire Apparatus. As always it is a pleasure to work with your company. There are not very many companies that would help out a department like you all do! God Bless you all and we look forward to doing business with you in the future. 
Michael Dickerson, Chief 
Sandy Hook Volunteer Fire & Rescue, Kentucky
Words cannot express the gratitude and respect we have for your company and the people you have working there. Jeremy McCoy and Billy Claunch are stellar examples of what outstanding customer relations and integrity are about. We recently purchased two units from you, a Heavy Rescue and a Commercial Pumper. These two units have inspired our Department and set the tone for our ISO Public Protection Survey (PPS). We were able to pass the inspection with an 8/9 rating. Had it not been for the diligent effort of Mr. McCoy and Mr. Claunch, we would not have realized this level of performance in our Department. These two gentlemen worked well above and beyond what is considered usual and customary in apparatus acquisition. Our hats are off to you and the entire staff you have there. We were given excellent instructions on operations of the new (to us) equipment and have had absolutely no issues with the performance of the units or the ability to operate them. Thank you. It is an honor to have done business with a company that still holds ethical values and delivers on their word beyond what was agreed. To all of you at Brindlee Mountain: You have a new friend and a long time customer. Our future needs for apparatus will always start with you and will hopefully end with you as well. 
Steve Helms 
Little River Volunteer Fire & Rescue Department Board of Directors, Alabama
From the first phone call we made to inquire about our 2007 Seagrave Pumper to any issues we have had after taking delivery, Brindlee Mountain's friendly staff have been very helpful and continue to be even after taking delivery. Prior to purchasing we were given free access to go over the truck and make a list of any items we found that needed repair and any concerns we had. In addition, the service department also went over the truck repairing anything we did not find. Once this process was completed, all of our questions and concerns were answered, all of our punch list items were repaired, and we were very confident that we would be purchasing a quality used apparatus. Even after the sale, the service staff and personnel have been very helpful and timely in taking care of any issues we have had, even coming to our station for some minor calibration issues. The Toney Volunteer Fire Department highly recommends the Brindlee Mountain staff for any used apparatus purchases. We will definitely be using their services in the future. Darrell Bell
The rescue truck is working great. We have used it several times recently and had a few major accidents that have required a long extensive extrication. The truck has performed flawlessly. The light tower is also absolutely amazing at night. I often wonder how we worked without it. I can't begin to tell you what a perfect fit it is as an addition to our fleet. We continually get positive comments from other departments about the truck and they can not believe that it is not brand new. One of the neighboring Fire Chiefs commented to me last night when he saw the Rescue coming into his major accident. "Here comes Adams, we are about to have the sun come up". We again appreciate all of your help in acquiring this truck for us. After having a very negative experience with another used fire truck dealer with acquiring a Rescue truck, I was a little reluctant to contact your company. How wrong I was! From the first phone call I made on a late Friday afternoon to a follow up phone call that you may have found us the exact truck we were looking for. Then the continued follow ups after delivery. It has been absolutely amazing and very professional. You definitely represent a very professional, caring company and esprit de corps. I would recommend anyone looking for a fire truck to contact Brindlee Mountain Fire Apparatus. As we plan to call when it is time for another piece of apparatus!!!
It has worked out well for using the Rescue truck as a rehab unit, we've even had it out twice on dive rescue calls. We grin from ear to ear every time we are able to take the truck out on calls. Everyone that sees it thinks its a new truck, they are in disbelief when we tell them it is almost 17 years old. You guys are awesome!! Good to hear from you, keep selling fire trucks and take care!
If you looked in the dictionary for the definition of impeccable service, you would find a picture of the entire BMFA staff. Our departments first experience with BMFA was five years ago when we purchased a 1997 E-One 75' Quint (Unit 110). I have never experienced the attention to detail that was provided by the entire BMFA staff. Rachell is the hostess extraordinaire; she met us with a smile and went above and beyond to make our stay in Union Grove remarkable. James and Billy
Thanks for letting me know you received payment. You and your staff are first class. It was a pleasure working with each of you. We really appreciate your work on helping us get the best possible price for the truck we sold. Thanks again!!! Assistant Chief Keith Jedlicka Hungerford Volunteer Fire Department
Efectivamente nosotros compramos un carro con ellos el cual llego en perfectas condiciones, la semana pasada lo lleve a una planta de revisi
"Recently we purchased a truck from BMFA which arrived in perfect condition. Last week we had the truck serviced and pump tested and it passed all the requirements set forth by the Transportation Ministry of Chile. I can also say that as a firefighter in Chile, I have an extensive knowledge of fire trucks. As we all know, there are no better trucks than American Fire Trucks. Nowadays, they are the only fire trucks that have the capacity to place enough water pressure to the top of the ladder as it should. Lastly, I had the opportunity to be with David en the USA in order to know more about their operation and the many types of trucks they have for sale. We found that their are experts working on these trucks as well. I would recommend that you not hesítate to buy from BMFA!"
I just wanted to take this opportunity to say thank you to you and any of the Brindlee Mountain team that helped us get our new rescue truck in service. Buying a used apparatus is a very uncommon practice for this department and buying a truck without actually having seen or operated it in person caused me some considerable anxiety. I couldn't be more pleased with the outcome. When the truck arrived it was certainly a relief and in the weeks that have followed the rig has exceeded any expectations that we had. Throughout the purchase process you were very helpful and your willingness to work with us helped us to obtain more truck than we had originally thought possible. You were very honest about the condition of the apparatus and never over-sold or misrepresented it. Again, this truck has exceeded our expectations. You and all of the Brindlee Mountian staff were honest, realistic, and attentive to our concerns throughout the process.
Our truck was sold tonight for 190k. Please have your folks take it down from the website when they get a chance as we are still receiving calls. We had received five or six good calls about the truck and actually sold it to the first department who contacted us last week. Thanks for all your help on this. It truly points out the significance of your company in the used apparatus market when you consider how many legitimate calls we received in such a short time. If you ever want a customer testimonial let me know!
Chief Rob Herrington
Wintersville Volunteer Fire Department, Ohio
Everything is going good with the truck and we are VERY excited to start using it. We still have to finish loading it up with equipment but it's available for calls if needed! I would like to thank you and the whole Brindlee Mountain staff that helped make this project a reality for our department and our community!
On behalf of the City of Lynden Fire Department, I would like to express our gratitude and thanks for making the purchase of our "New" Aerial Platform from Brindlee Mountain Fire Apparatus one of the easiest and most enjoyable experiences possible. When we set out to purchase our Used Truck, one of the things that we researched was various Fire Truck Brokers and Vendors throughout the U.S. What we found during this research, was that Brindlee Mountain Fire Apparatus was consistently regarded as the Company to deal with when looking to buy a Good Used Truck. Every person we contacted that had used your service had nothing but great things to say about their buying experience and the service they received. We contacted your Company via email, and within hours, I received a phone call from Billy Claunch, asking how he might be able to assist us in purchasing a Used Truck. Billy was courteous, pleasant, and a pleasure to work with throughout the purchase and delivery of our Aerial. He is by far the most pleasant Person I have ever had the opportunity to purchase equipment from. His dedication to your Company, and his Customer's is above and beyond what I could have ever expected, or imagined. Everyone at Brindlee has been extremely helpful during this process, from Rachael and the girls in the office, to Butch, Greg and the guys in the shop, and also Ritch Spires in helping us resolve some small maintenance details with the Truck, it has been a tremendous experience and pleasure to work with such true and genuine folks. I look forward to working with you all again in the future, please thank each employee for us and the wonderful experience we have had, as each one of those employees all played an important part in the purchasing process.
The rescue is working out great. We have used it on three working structure fires – two were at night, so we utilized the light tower. We also have it set up as our rehab unit and with the colder weather it worked fantastic to be able to get crews warmed up as we rotated them. I can't say enough about how happy we are with the truck and the hospitality we received from you and all the folks at Brindlee Mountain. You worked a miracle for us with our limited budget!!! Again, thanks for all your hard work on the project. Take care Jeremy and hope to hear from you in the future!
We wanted to say thank you for working with us on the 1996 Pierce Freightliner. We have used it on numerous fires, and it has worked perfectly. Again thanks for all you have done to help us purchase this truck. We are spreading the word about your company.
Our department for months had been looking for a good used aerial ladder and our truck committee was meeting on a Sunday in March to discuss and review our options. This was the first used piece of apparatus that our department had decide to pursue, so we were unfamiliar with this type of buying process. We had seen other sites and looked into a number of used trucks but were not comfortable with what we saw. That morning I was searching the internet and found a late model truck that meet all of our requirements. I called into Brindlee Mountain that day leaving a message and to my surprise was contacted by Bill Claunch in less than two hours. By the end of the day, we had written confirmation from Brindlee Mountain that they would hold the truck for us until we completed an onsite inspection and finished our mandated referendum process. Additionally, to their credit, Brindlee Mountain assisted our fire commissioners by providing sample/draft legal documents needed to meet all of NYS referendum standards. After the public passed our referendum and we took delivery of the truck, a few warranty issues came to head and Brindlee Mountain once again stepped up to the plate by arranging and addressing all necessary repairs.I would recommend Brindlee Mountain to any fire department looking to purchase a used piece of apparatus. Their experience and professionalism is unmatched and their commitment to the customer makes buying a used apparatus an extremely smooth process. With all municipalities today struggling to work within shrinking budgets and revenue shortfalls, purchasing used apparatus is a necessity for many and Brindlee Mountain is truly the best option in the used apparatus market. Thank you Billy Claunch and thank you Brindlee Mountain.Lieutenant Rob Urtz (Truck Committee Chairman)
Thanks to the staff at Brindlee Mountain Fire Apparatus for helping our department find and work through the details in order for our department to get this great deal of a much needed rescue. Billy was great to work with on this project. We have since put the rescue in service and it has already made its impact to the community and department. Thanks again from Thomas Edwards(co-chair),Jimmy Kilpatrick(committee member) and myself. Assistant Chief Johnny Craft
On behalf of the Madison Volunteer Fire Department, I would like to thank you for the hospitality and professionalism your staff showed myself and Captain Anthony Runyon during our recent visit to your facilities. Our main contact with Brindlee Mountain has been Jeremy McCoy and he showed us a great time from our arrival in Huntsville to the time we left. Upon our arrival at your facility, every employee you have made it a point to introduce themselves to us and make us feel like we had been their many times. This type of atmosphere was great to be around and made it easier to purchase the ladder truck we came to inspect.During the time leading up to our visit, Jeremy was up front and honest with us about the truck we were interested in. I found that every question I had presented to him was answered honestly, and we appreciate this. During our many communications both by phone and email, Jeremy had told me that you would do everything you could to help us get into this truck, he said "Make an offer you can afford and if James can put you in the truck for that he will". Well, I found this statement to be the most honest statement he had made. Upon completing our inspection, we presented Jeremy with a list on things we wanted completed and a price we could afford. To be honest, we figured he would come back with another price, but he didn't. After meeting with the upper management, he returned to inform us that the offer had been accepted. I want to thank you for running a good honest business and not trying to inflate the price of the apparatus just because it is in the fire fighting field. Thank you.
We have received today the parts for our Fire Boat which you graciously donated to our Department. This will help us complete the project which we have started. You are a great Company to deal with and looking forward to future business with your Company. Thanks a million.
Chief Richard C. Savage
West Nipissing Fire & Emergency Services, NS, Canada
I applaud your company in the professionalism it carries. We recently have sold a Quint through a brokerage agreement with Brindlee Mountain and we had sold it very quickly. We had calls from Argentina, New York, and Idaho. It was quite amazing! Working with you and your sales people was a delight. You can sure tell you've been doing this a while. You made it happen fast and easy through your company. Thanks again.
Chief Gary Guenette
Marinette Fire Department, Wisconsin
Thanks to you and your parts manager, Butch, he was very helpful in obtaining the information needed so we could make the hose reel work to our needs. It is people like you and your staff that makes things go much easier in getting the right items to do a job much easier and safer.
Chief Keith Osborne
Big Cove Volunteer Fire Department, AL
The KME has found a great home thanks to you guys. She will continue to serve in the spirit we first received it in. Southeast Fire is grateful for all y'all did to make this possible & thankful for the opportunity. You are welcome in Caesar, MS any time you're passing by.
My company recently purchased a exceptional ladder truck from your company. As pleased as we are with this great truck, that is not the reason for me writing you.Our apparatus committee and I went through the entire process of locating a truck to meet our needs and requirements. Once we located the truck we wanted, we began the process of dealing with your company. Now that the entire process is complete, I feel obligated to forward you our thoughts. In my many years in the fire service, I have dealt with numerous dealers, new and used, numerous service companies and repair shops. I am pleased to let you know that this was by far the best experience I have ever had in these types of dealings.It started from day one with contacting Jeremy McCoy and continued throughout the entire process. During our visits to see the truck and coming to your place for final inspection, your entire staff involved with our purchase treated us with nothing but respect and actually made us feel welcomed. This may seem normal business, but trust me it is not. You have an exceptional staff. Jeremy, Rachell and the rest of your staff, including all the guys in the shop, have our gratitude and should be recognized for there positive attitude and the level of service they provide. I would like to say for the very first time ever, that Jeremy and your staff actually made this entire process and purchase FUN! How often do you hear a company say that? My committee and I enjoyed the entire process. I can say with a high level of certainty that this will not be the last purchase we make from your company. We will also be sure to tell everybody that will listen how well our purchase went and definitely refer them to Brindlee Mountain Fire Apparatus. Again, a big THANK YOU to you and your staff for a job well done.
I just wanted to drop a note on behalf of Glade Fire & Rescue. As you are aware, we purchased a heavy rescue from you recently. We also made a trip to your facility and the hospitality shown by you and all the people of Brindlee Mountain was exceptional. We enjoyed meeting the people that have serviced us.We appreciate your company standing behind the sale and especially the service after the sale. As you know, the PTO generator became an issue shortly after the delivery of our unit. You and your staff acted promptly and appropriately by sending to our station personnel to inspect and resolve the issue. That says much more about your company than I could put into words.Once again, thank you for a smooth sale and seamless service. I look forward to future purchases from Brindlee Mountain.
You guys have a good buzz with my fellow commissioners. They have even said this whole purchase has gone so smoothly you will be our first call when its time to buy a rescue truck and a squad/first responder truck. I just wanted you to know because I'm taking all of credit on this end. :-)
I wanted to thank you for everything you guys did, I see that BMFA is a top-notch company. I have really enjoyed the process of buying a truck from Brindlee Mountain, we will recommend you to anyone looking for a used truck. Thanks again,
Just want to thank you and your company for hosting us for our visit. We both were impressed with the accommodations and hospitality. This speaks highly of your company and all of it employees. We were never treated that way when we bought our 06 new. The truck was exactly what you said it was. I'm sure looking to be able to drive it to the house. Thank you for your patience and working the deal out for us.
We have put the truck in service and it is a big hit with the firemen as well as the community. I would like to personally thank you for all of the work you put in to make this deal happen. This truck is everything you said it would be and more. When it comes down to us getting another truck, you will be our first call. Thanks again.
In the past 2 years we needed service and a new truck, both the service department and the sales team at Brindlee Mountain stepped up and with great sales and service. From all of us at Mount Vera Fire, we thank both departments for being there helping us and meeting our needs and goals. We appreciate it and highly recommend everyone else come and check out Brindle Mountain Fire Apparatus. Thanks to all of y'all from all of us.
Thank you very much for your attention and your commitment to service! After our purchase I was pleased with the way you do business and made sure to suggest to several of our local fire departments that they check out your company. Now I am pleased to know that you stand behind what you sell. You can be sure that I will be letting everyone that I can possibly talk to know what a fine organization you have!
I just wanted to take a quick moment to tell you guys thank you for all your help with our new truck. You guys have been great in helping us get the truck up and going 100%. The Highland VFD has never had such a good truck, and we really really appreciate all the help you guys have been. We have loved that truck ever since we got it from you guys a few months ago!!! Take care and thank you so much again!!!
We needed to replace our rescue pumper, but the selection in our price range was limited. Like many volunteer departments, cash for large purchases is a big issue. Financing can be difficult to obtain and the grant process is slow with lots of competition. Every week our efforts were in vain – either the price, condition, location or high payments eliminated every choice we made.Then we found Brindlee Mountain. Their inventory offered a range of prices. The staff members were friendly and eager to help us. On our first visit we were impressed by their fantastic shop facilities. While we arranged financing, our 'new' truck underwent a thorough inspection, repair and servicing so it was ready to be placed in service upon delivery.And the warranty is not just words on paper. After delivery, Brindlee Mountain fully supported us to correct the few defects that arose. Now we have one, reliable source for our future apparatus needs.
Robert Plummer, Assistant Chief
Highland Volunteer Fire Department, TN
On behalf of the East 60 Fire Department, we would like to thank you for time and willingness to work with us. You made the process easy and pleasureable. We hope to do business with you again. Thanks again!
Toby Marlin, Assistant Chief
East 60 FD, KY
James! Big Red Finally Made It Home!!!!!!!!! This truck is even more awesome then I remembered!! It looks pretty cool decked out with our name and logos on it! Also it drew a lot of attention from the town, it got lots of finger prints applied to it on its first night home. THANK YOU for introducing our town to its first real fire pumper! You guys (and gals) have been great to deal with. Thank you so much! I can't wait to get Big Red in service and be able to respond to our first call with it. I will try to get some pictures your way soon.
Well, the truck's been used a lot lately as a group of 17 are following a mandatory ladder operator's course that is given by an instructor from Montreal FD (one of the Captains that teach the Montreal firefighters on the new E-one equipment that they have ordered.) He has nice unsolicited opinions & observations on our truck. Our members are pleased with the performance of the truck as well, it serves our needs just fine. I just want to thank you both again for mainly being men of your words (hard to come by at times) & doing the right thing.Thanks, stay safe, keep up the great work & God bless
I just personally wanted to say thank you to you and all the employees, you guys do a great job. You guys have GREAT business ethics in a time were not many people do. Please pass it along to everyone in your organization. Keep up the good work… It is noticed by anyone who you deal with I am sure.
I just wanted to take this opportunity to thank you and your company for the outstanding way that you treated our department during our recent purchase. We went ahead and drove the truck home Friday evening. We are all just so excited about this truck and can't wait to get it into service. You and your whole company are just the greatest! You can be sure that I will be recommending your company to any one that will listen to me!
On behalf of the Richland Township Fire Rescue we would like to say thank you to you and all the staff. The process of obtaining the apparatus was a long one on our end and your company made it easier.Thank You,
Thanks for all your help! We look forward to seeing you on the 13th for pick up of the new tanker which will make truck number 3 purchased from BMFA. We feel you are a godsend to all fire departments in the world. GOD BLESS ALL OF YOU!
We received the truck on Tuesday. Everything is excellent. Thank you very much for the excellent workmanship, we are very impressed with your quality of work. Looking forward to doing more business with you in the not too distant future.I would not hesitate to recommend your Company to any of my peers in the Fire Service.Thanks a million,
I very much appreciate everything you and your staff have done through this sale, and would HIGHLY recommend anybody looking for used apparatus to deal with BMFA! You should be VERY proud of what you have accomplished and the team of professional and caring people you have assembled at BMFA. A FIRST CLASS experience from start to finish. You my friend will have continued success due to the way you and your staff treat people! God permitting, we WILL do future business together.
We have had our "new" engine in service for a few months now and all the bugs seem to have been worked out. The engine is serving our needs quite well. I just wanted to take a moment to thank all of you for helping my department through our toughest times. It's exciting to spec out a new engine and anticipate its delivery and activation. Though still nice to get a new rig, it's a little bit of a different story when we had to replace our first out engine that was destroyed in an accident, along with most of the equipment on board. BMFA made that ordeal much easier. The truck was picked out with no hassle and customized to our needs with no problems. There were some serious issues after delivery but your team worked with local mechanics and technicians and fixed the issues as promptly as possible.E-75 shines out above any other rig in the county. It is better equipped, built, designed, and powered than any other truck around us. The two paid departments are a bit jealous of the rig, and often ask why our little department needs such a truck. E-75 was the flagship engine of all the holiday parades, and it does pretty good on runs as well. The engine hasn't had the opportunity to service a working structure fire yet, (which means no fires which is a good thing,) but it has outperformed our expectations on other runs as well as during trainings. My firefighters were a bit apprehensive about working off of this type of truck, a custom breaks the mold of what volunteer departments run with around here, but after practice and time behind the wheel and at the panel, everyone loves the truck.Anyway, I just wanted to thank you again for providing Millersburg Fire and Rescue with the engine. It has made our department that much better equipped to do the job that we have to do.
You and your employees have made this a great experience and I am grateful that we were able to met you and work with you. I can't begin to tell you how much your help has been and to have someone that I feel I could trust. For me this was the first time purchasing used equipment and to tell you the truth I was nervous thinking we could get stuck and it would be on my shoulders. Again, thank you and your team very much.
Just wanted to let ya know we received the truck Friday evening and everybody is very pleased with it. The truck looks great and I know it will become very vital to our department. You and the whole Brindlee family have been awesome to work with.On behalf of Bob, myself, and the whole department thank you for everything!
Truck is running and works great. We have the truck in service and all the guys seem to like it well. It is a big change over the 1974 IH we had. Again thank you for the good service you and your company showed us when we came to inspect the truck.
Thanks so much for everything! It was truly an enjoyable experience working with you and your crew. I have always heard about southern hospitality and now I have had the pleasure of experiencing it. Tell everyone thanks from me and GCFD #3. Hope some day we will meet again.
Thanks for the hospitality on our visit last week. You and rest of the staff made us feel as though we had known you for years. Our buying experience was a good one. I had mentioned before that your firm was one of only two that had contacted us or returned messages about our truck needs. It is quite a leap of faith to fly one way to Alabama from NW Iowa to purchase a truck that had only been viewed on the internet. The truck was just as it had been represented, there were no surprises. Your company is a first class operation. We were impressed with staff and the facilities. I would recommend your firm to others, and would be a repeat customer in the future if in need of a truck. The Bible was a nice extra also.
I couldn't be happier. I came down to the station Saturday morning, and all I saw was a great new rig and smiling faces everywhere I looked. The members were extremely happy with having a new truck, and I don't think that we could have found a better vehicle that suits our needs. We had residents from the city stopping by the station all day Saturday just to see the new rig, as it is the first new vehicle this department has seen in 10 years. That in itself was a good sign, as we don't often get visitors at the department aside from our regulars. We had a gentleman stop by that has lived in the city for 47 years, and never once stopped by the fire department. The excitement from the community can be felt, and the City is proud that the Fire Department took it upon ourselves to make such a purchase to serve the city. The level of professionalism and service that you guys provided is beyond words. Tom, Joe and Gene were very impressed, and were singing your praises. I really appreciate the lengths that you went through to ensure that we were getting the truck that we needed.
This truck is excellent!!! Great Job! Hope to do business again in future!
It was a pleasure meeting you yesterday. You and your company have many qualities that we admire, mainly your people and approach to business. I am glad that we choose you, and I am glad I got a chance to come for the inspection.
Thank you, and have a Merry Christmas,
I was excited to hear from you this morning. We couldn't have been treated any better than the great hospitality you, your family, and your employees extended to us. I honestly feel that the Dear Lord guided me to your company. Our little community will have a good dependable fire vehicle to protect us and our little valley as well as those who drive through here for many years. The best part is we were able to meet some great people in far away Alabama.You and your company and all your employees are so much different than the normal. What a pleasure is was to be greeted and made to feel at home with the atmosphere you have created. The whole thing started with Billy, he was so great on the phone/e-mail and made doing everything about purchasing a fire truck so easy. I told my traveling crew if everybody was like Billy we found the right place to buy a fire truck and sure enough everybody was fantastic.I have always noticed through life if you have a good person at the helm everything falls in place to the last person and that is what you have accomplished with your company. Everything about your company is very high quality, starting with your salesperson Billy; your clean, well organized facility, the clean organized shop, all the employees coming forward and making all of us feel welcome starting with Rachael behind the neatest desk I have or will ever see. I couldn't believe it when Billy took me out to look at the take off items in the containers. They were organized and easy to look through.
I am really hoping we can have a good visit again I so enjoyed myself being around you folks. I wish my family could have been with me to get to meet some of the best people on the earth. I would really like to stay in touch with you and Billy. I feel like I have made some great friends and we are thrilled to be your first customers in Nevada.
Please tell your family and your employee family hello from Nevada.
The taxpayers of the Turner Fire District work very hard to earn their paychecks. Then they turn around and pay property taxes to our fire district. Every dollar they send to us is a dollar they don't get to spend on their families. A big part of my job is to invest these hard-earned dollars very carefully in the people and equipment that respond to emergencies in our community. I make every effort to treat each dollar as if it were my own. I don't make every investment perfectly, but I do make it carefully.When it comes to buying equipment, I look for a great price. But, beyond that, I look for integrity and service. I want to invest our dollars with businesses that will honor our hard-working taxpayers as much as I do. These venders are few and far between and when I find one, I take the time to express the gratitude of our entire community. Your company is one of those venders! From the beginning of our very first conversation to the final delivery of our new used engine, your company operated from a position of integrity and honesty. You had many opportunities to cut corners or to lie to us. Not once did you take the easy path or take advantage of your position in the deal. You went out of your way to give us more than we paid for and to take responsibility not only for issues that you needed to take responsibility for, but for many issues that were not your problem. This policy of organizational integrity must cost you lots of money, but I want you to know that it is noticed and appreciated.Not only will I call you the next time we need an engine, but I will be certain that every fire department in our area is aware of the exceptional service you provided to our taxpayers. You got our business. Now you have our gratitude and our respect.
Thanks again,
I hope this email finds you well… We really put the truck through the paces at training Wednesday night… Had a few glitches, but solved them and had a great time with the unit…. The more we play with it, the better we like it!!!!!!!! I would also like to thank you for hanging in there with us while we were trying to decide on whether we should buy and, if so, what to do to the truck. I'm sure upon seeing the unit, someone else would have offered more than we paid for it… This day and age, it's refreshing to find and deal with a business that is true to its word and willing to put a little trust in their fellow man. You know as well as I it's even harder to find a Christian-based business…. Your gift of the Bible is a very unique gift and it most appreciated. If only more would realize what true "saving" can be found between the covers.As with all our emergency equipment, I hope we never have to use the truck. A pipe dream, but what a sweet world it would be. Our next unit will be a brush/mini pumper, and you can bet I will be watching the website for our next purchase.I pray God keeps you and yours safe,
Just a short note to say Hi, and to once again thank you for the opportunity to do business with you. We had our 9th structure fire this year, and the truck worked great. This engine has made a great impact in our community, and is a GREAT APPARATUS. I hope all is well with all of you. I want to thank you again from my Board, Officers, Firefighters and our community. This apparatus has made a great difference.
Take care of yourselves,
Chief Mike Graham
Paradise Valley VFD, MT
This has been a very good experience working with your company and you should be very proud of the people and company you have built.
Best wishes,
I received a beautiful Bible in the mail today. Thank You! It is a beautiful book to look at, and holds many beautiful promises for those who search for them. Thanks again! We are continually impressed with our truck. It is so far superior to what we had, in fact there's no comparison, as you will see once we get some photos to you. I greatly enjoyed the time we spent at your shop (even if it was slightly longer than anticipated) it was educational and interesting. I totally enjoyed dealing with you and was impressed with your way of doing business. Thanks for everything,
I have enjoyed working with you on the purchase of the rescue truck and look forward to meeting with you and closing the deal. I appreciate the straightforwardness and the hospitality that was shown to Jim and Chris when they went to your facility to inspect the vehicle. They were impressed with the facility, workmanship (of the other vehicles being worked on and displayed), and most importantly with the staff. Sometimes, these qualities are difficult to find in this day and age. These qualities did not go unnoticed. Thank you and we will be in touch.
I have worked with many companies in my life, but only one or two like yours. You are good people, great to work with, and you understand our needs. Your staff is great, your knowledge and just great respect and help for firefighters is the best. Thank you.
Hi, Just a note to thank you for the follow up on the repair of our engine. Greg and Jeff came today and made all the repairs we had asked for. We are very pleased with the engine. Every thing is working just right. Again, thank you for the follow up. We have really enjoyed doing business with y'all. If you need a good recommendation in the future, please let me know and I will be happy to recommend your business. And what a fine group of people you have.
I need to take this time to thank you and everyone at BMFA for the time and work that you all have done on getting us our new trucks. We are all very pleased with the trucks and how much you were willing to work with us. I hope that we are able to work with each other again in the future. It will be my pleasure to recommend your company to anyone who is looking to buy a new truck. If you are ever up this way, feel free to give us a call. We would be more than happy to have you stop by for a visit. Again, thanks for everything.
On behalf of all the members of the Sapps-Union Chapel Volunteer Fire Department, I want to express our grateful appreciation for your gift of the Firefighter's Bible which you sent to our department! This is the first time we have seen one like this and it is very unique. You can be assured that it will be used! We deeply appreciate your interest and concern for us.It was a pleasure to do business with your company several weeks ago. Also, we want to again express our thanks for the delicious meal which you provided for each of us who traveled to Union Grove. You were a very courteous salesman.We are very proud of our department and what we have accomplished during these 20 plus years of existence. We are thankful for the privilege of serving our communities and are grateful for the support of so many folks who help us and encourage us. Again, thank you for helping us to better serve our communities by being spiritually prepared as well as prepared with a good brush truck!
All's well in Reedsport. We had a fire in a waste basket this morning at a local motel about 7 AM. Needless to say, the new truck caused a lot of the guests to come out and have a look and ALL were impressed with it. Also needless to say, we are really impressed with it. This has got to be the best engine this town has ever had. Yes, we have purchased new trucks in the past, BUT they were not REAL fire trucks as this one is. Thanks again for the courtesy you showed Harold Rose and myself when we were at Brindlee Mountain.
It's been a pleasure working with you and a big THANK YOU for waiting for us to get our ducks in a row to purchase the truck!!!!!!
Just a note to thank you and your people for the hospitality and cooperation shown to us on Friday. You should be very proud of your company and people. It was certainly a pleasure to transact business with Brindlee Mountain Fire Apparatus and we will certainly view your website in the future for other possible apparatus our Fire Department can use. If we can ever be of assistance to you, please do not hesitate to call. Again, "Thank You" from all of us and may your business continue to prosper.
We would like to take this opportunity to thank you for the wonderful experience we had while visiting your dealership. Everyone there displayed an enormous degree of professionalism. From the moment we walked through the door, we felt as if we were part of your family. In today's business environment, it is refreshing to meet people who believe in going the extra mile.We look forward to doing business with you in the future and it will be our pleasure to recommend your company to others. Again, we thank you. You made the whole experience very pleasurable!
Our apparatus are performing great. As we enjoy showcasing our new station (showing off), we always express our pleasure in dealing with you. A station with seven apparatus, six of which are preowned, we are the envy of many departments around our area. The public often thinks we have new apparatus as well as a new station even though the newest apparatus in the house is 11 years old. I hope our next purchase will be to replace our '77 Chevy and '82 American LaFrance with a crew cab, all wheel drive urban interface engine. If you locate something of interest, let me know. We appreciate our continued relationship!