No Sale but Great Service
Over the years, my department and I have had the pleasure of working with your company and your staff on several occasions. 
Each time we have made a call or sent an email, it has been exciting to communicate with such positive and helpful people. For several years I have been working with Chris Crutchfield. I had talked to Chris many times over the years by phone and emails, but I had never met him.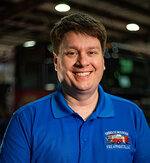 A couple of months ago, one of my Officers and I had the opportunity to visit your company and check out a Tanker that we had an interest in. 
Chris stayed in constant contact with us throughout our travels and had us set up at a very nice hotel. 
Later that evening, I got to meet Chris, and we exchanged stories over dinner and really got to learn about your company and the passion Chris and your other employees have. 
Although my department's Board of Directors chose to go a different way and purchase another truck, I cannot express how impressed I was with your hospitality and generosity. 
You have put together a wonderful company and have a group of fine-tuned employees that strive to meet the customers' needs. Thank you for what you do, and I hope to do business again in the future with Brindlee Mountain. 
You're a top-notch company.
Scott Rudisill
Fire Chief
Fair Grove Fire Department